Noah, Original Sin, and Facing New Challenges
After the great Flood, Noach planted a vineyard (9:20). The very next verse tells us that he drank from the wine of the vineyard and got very drunk. This led to a shameful exposure of Noach to his sons, and the unfortunate aftermath. I've always read this passage as an expression of nihilism by a man who barely saved his world, but at the same time lost everything of his previous life and existence, and lost all sense of future purpose. After the initial euphoria of leaving the Ark and surviving the Flood, imagine the vast emptiness and void that confronted Noach. Here was a man whose best years were behind him, and who saw nothing ahead for his future. Could we really blame him for his Ecclesiastical attitude that "everything is vanity"?
This reading of Noach's actions in the verses is influenced by Rashi and the Sages, who tell us that when the Torah states (9:20): "וַיָּחֶל נֹחַ אִישׁ הָאֲדָמָה וַיִּטַּע כָּרֶם", the word "וַיָּחֶל" means that Noach profaned. They read the verse as Noach, the nihilist, being a man who profaned himself by planting a vineyard before other, more useful crops, so that he could indulge in the gratuitous pleasures of the earth (he was an "אִישׁ הָאֲדָמָה" – a man of this earth).
He essentially gave up on any higher purpose. As Nietzsche famously said, "If you gaze into the abyss, the abyss gazes also into you." So many people who feel "stuck" in life and who can't find a purpose will often use drugs and alcohol to drown out the pain of a life left unfulfilled. Perhaps Noach intoxicated himself for this reason. (This is often the political argument against creating too much of a welfare state for the lower class, in that those on the dole will often give up on themselves. We often do more harm by patronizing those who could and should help themselves instead.)
Noach the innovator
But there's another tradition about this story, one that portrays Noach in a more positive, even noble, light. According to Radak and others, "וַיָּחֶל" does NOT mean that he profaned himself, but rather that he began something new that had not been attempted before. Up until this act of planting, people didn't plant actual vineyards; they rather planted individual vines in the hope of harvesting some table grapes for their community. Noach innovated the use of grapes for wine, which necessitated the creation of large vineyards, far larger than the individual vines that were planted for fruit consumption alone.
Noach is called the "אִישׁ הָאֲדָמָה" because he was truly a master of agriculture. This narrative continues a rabbinic tradition from the end of Parshat Bereishit, which tells us that Noach received his name, which literally means "making easier," because he innovated plowing with animals to ease the difficulty and travail involved in cultivating the soil.
According to this interpretation, instead of us confronting the nihilistic Noach after the Flood, we are confronting the Noach who wishes to rebuild and recreate a whole new world with even more amenities than before. But if so, then why did this story have such a tragic ending? Why did Noach's newfound approach to manufacturing wine, a beverage staple for most of human history, end up with his degradation and his cursing his son and grandson?
Radak answers simply that this story is a cautionary tale about the dangers of wine, and of overindulging in intoxicating spirits. But to get to a deeper meaning, we'll need to reference the Jewish mystical tradition.
Fruit of the Tree of Knowledge
The Zohar (Noach 73a) states that the vine that Noach planted was quite extraordinary. Of the various opinions of what type of tree the Tree of Knowledge of Good and Evil was, one opinion is that it was a vine. Noach somehow obtained a shoot from this vine from the Garden of Eden, and planted it anew. In the language of the Zohar: "Noach sought to replicate the original act of eating from the Tree. But his objective was NOT to replicate Adam's sin, but rather to understand it and to rectify the world thereby. He failed, however. When he squeezed the grapes to make wine, he became intoxicated and he wallowed in his tent, because he could not withstand the great temptation of the Tree."
In the eyes of the Zohar, Noach viewed himself as a "fixer," a rectifier, of all that was bad and flawed in the world. He was able to rectify the products of Original Sin to some degree, by making the life of man easier, alleviating some degree of the farmer's "sweat of his brow" (3:19), and mitigating the curse that was placed on the soil when Adam ate from the Tree. What was Noach seeking to rectify by replanting the Tree of Knowledge and trying to eat of it again? We are treading on very deep and esoteric territory, but allow me just a surface view of something that is actually much deeper.
Noach and Nadav and Avihu
The same passage of Zohar which notes that Noach failed, also observes that he was not the only person who tried to rectify Adam's sin and failed. Aaron's two sons, Nadav and Avihu, also tried to use wine as a means of approaching God and rectifying Adam's sin. According to Rabbinic tradition, they drank wine before entering into the Holy of Holies. But sadly, they, too, failed and that is why they perished, as recorded in Parshat Shemini (Lev. 10:1-2). Adam's fall was based on the Tree being this very powerful opportunity for reaching some level of spiritual greatness, but also containing some great inherent danger if not used properly. Wine represents this double-edged sword of utilizing a mind-altering drug to expand consciousness.
The only problem with this kind of mind-altering drug is that if not used properly, it will have a negative effect. Alcohol has a dual effect, of both acting as a depressant and as a stimulant. It provides a euphoric feeling through releasing dopamine, while at the same time depressing one's physical senses and creating a feeling of "dissociation." What Adam was trying to accomplish by eating of the Tree was to somehow "dissociate" himself from his physical confinements in the hope of conjoining with Hashem. He failed because he could not control the by-product of that effort, which is to get trapped in the self-indulgent euphoria of the moment. Both Noach and Aaron's sons hoped that they could separate the good from the bad. They all tragically failed in this effort.
Attempts at rectifying Original Sin
It is not impossible to rectify Original Sin. But certain things can only be accomplished at the right time and by the right person. The higher the stakes, the more dangerous the effort. As the late comic, Norm MacDonald, described about the sport of cliff-diving, where a diver jumps off a cliff and either parachutes or parasails downward, "There's only two classifications in cliff-diving. There's 'Grand Champion' and then, 'Stuff On a Rock.'" Or, we can refer back to the first part of the quote we started with from Friedrich Nietzsche: "He who fights with monsters must take care lest he thereby become a monster."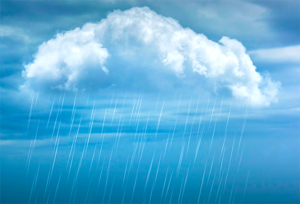 But was Noach wrong for his attempt? It's very hard to condemn him for trying to make things better, especially at this particular juncture after the Flood. Perhaps he thought that this was his role. Mankind is being rebuilt, and now that the restart button has been pushed, let's go back to the original beginning in the Garden.
But there's something more. I'm reminded of a statement made by Rabbi Yehuda HaLevi in the Kuzari (5:22), when he was challenged about his plans to make Aliyah with the argument that it was too dangerous. He responded: "If a person has made a reckoning in his soul, is thankful… and satisfied with having lived what he has already lived, and dedicates the rest of his life to the fulfillment of God's will, then such a person may place himself in danger." Noach, too, was at a point in his life when he felt that he had already reached the highest plateau possible, and that the only thing left for him was to rectify Original Sin.
Learning from Noach
We should be both cautioned and inspired by Noach's efforts, even though they ended in failure. We should be cautioned to never fly too close to the flame of life, lest we get burned. But we should also realize that life is all about constant advancement and improvement. You are never too old for a new endeavor. What's on your bucket list? Start a new chapter in your life and conquer those things you had always hoped to do but then life got in the way. May we all succeed and continuously advance until we reach the final apex of our individual and societal humanity. May we realize this, bb"a.