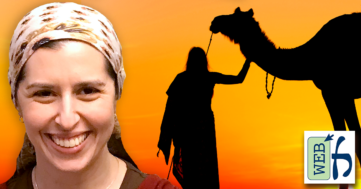 Mothers, daughters, and wives; why are some female characters in Tanach referred to only in relation to their relationships, and not by their own names? Join Sarah Rudolph as she explores the accounts of three unnamed women who play roles of varying sizes. What are we to learn from their stories, and how does their namelessness play into that?
January 5, 2022 7:00 pm - 8:00 pm
Unnamed Women in Tanach: Mother of Sisera
Class description
First, a bit of an introduction: Does it really matter if a character is known by a proper name or not?
Second, we will explore the figure of Sisera's mother as portrayed in Devorah's Song (Judges Chapter 5). What do we and don't we know about her, and why?
January 12, 2022 7:00 pm - 8:00 pm
Unnamed Women in Tanach: Daughter of Yiftach
Class description
Though many of us know more about Yiftach's daughter than about Yiftach himself, the Navi chooses to name him and not her. What do we know about this father and his daughter, and how is our reading of the story enhanced by thinking of her only as "Yiftach's daughter" without her own name?
January 26, 2022 7:00 pm - 8:00 pm
Unnamed Women in Tanach: Unnamed Women in Tanach
Class description
The wife of Manoach is one of the most fascinating examples of an unnamed woman, due to her obvious prominence in the story foretelling Shimshon's birth. Why would such a central character not be named? With the assitance of midrashic texts (especially Bamidbar Rabbah 10:5) and a variety of commentators, we will examine Judges Chapter 13 to develop a deeper understanding of her, her husband, and the significance of their names or lack thereof.
Sarah Rudolph is Director of TorahTutors.org. She is a freelance Jewish educator, writer, and editor and has been sharing her passion for Jewish texts of all kinds for over 15 years, with students of all ages. Sarah's essays have been published in a variety of internet and print media, including Times of Israel, Kveller, Jewish Action, OU Life, The Lehrhaus, TorahMusings, and more. She is Editor-At-Large, Deracheha: womenandmitzvot.org. Sarah lives in Cleveland with her husband and four children, but is privileged to learn online with students all over the world.