The Shehechiyanu Blessing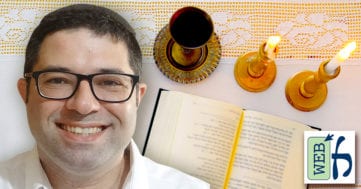 Shehechiyanu is an exquisite multi-dimensional bracha. However, for a variety of reasons, our understanding of this special blessing has become confused. In this four-part series Rabbi Johnny Solomon will provide: An introduction to the Shehechiyanu bracha; An exploration of Shehechiyanu on new items; An analysis of Shehechiyanu on new fruit; A study of Shehechiyanu on festivals.
Rav Johnny Solomon is a graduate of Yeshivat Kerem B'Yavneh and he has a BSc (Hons) in Math and Religious Studies, an MA (Distinction) in Jewish Education, and Semicha from the Montefiore Kollel in London. Until making Aliyah in 2012, Rav Johnny lived in London where he was the Head of Judaic Studies at Immanuel College, and later on, at Hasmonean Girls' School. In addition to teaching at Machon Ma'ayan, Rav Johnny teaches at Midreshet Lindenbaum & Midreshet Torat Chessed (MTC) and he is also an independent Jewish Education Consultant. Rav Johnny lives in Even Shmuel with his wife Donna and his five daughters.