Tanulásaink során közép- és újkori, a zsidó világ különböző pontjain élt tóramagyarázók írásaival ismerkedünk meg, ezeket olvasva mélyülünk el Mózes öt könyvének világában. E néha egymástól igencsak különböző bölcsek szemüvegén keresztül szemlélődve tanúi lehetünk, hogy a Tóra méltó héberül tant, tanítást jelentő nevére , és van mit tanítania a ma embere számára.
Made possible thanks to the Leslie and Vera Keller Foundation for the Advancement of the Jewish Heritage. A "Leslie és Vera Keller alapítvány a zsidó örökség előmozdításáért" támogatásának köszönhetően valósult meg.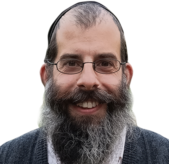 Rabbi Dr. Farnadi-Jerusálmi Márk (Micha) szajfer (tóramásoló) Magyarországon született. 2005-ban szajfer, 2008-ban megiah (tóraellenőrző és -javító) oklevelet kapott. Több tucat régi tóratekercset ellenőrzött és javított. 2016-ban zsidó művelődéstörténetből mesterfokozatot szerzett, doktorit pedig 2021-ben a párizsi EPHE/PSL (Sorbonne) és a budapesti OR-ZSE egytemektől közösen, a héber paleográfia (írástörténet) és a zsidó vallástudomány terén. 2022-ben a Midrás Szefárádiban (Shehebar Sephardic Center) rabbioklevelet kapott. Az Alma utcai imaház (Budapest) rabbija. Jeruzsálemben él Shanával, feleségével, és öt gyermekükkel.