Bálványrombolás vagy ellenállás
Ábrahámtól a legújabb korig a történelem tele van a bálványrombolás zsidó szellemével. A változással szembeni ellenállás szintén hangsúlyosan átitatja a zsidó történelmet. Melyiké a főszerep Hanukakor?
Made possible thanks to the Leslie and Vera Keller Foundation for the Advancement of the Jewish Heritage. A "Leslie és Vera Keller alapítvány a zsidó örökség előmozdításáért" támogatásának köszönhetően valósult meg.
November 30, 2021 7:00 pm - 8:00 pm
Bálványrombolás vagy ellenállás: Bálványrombolás vagy ellenállás
Class description
A hasmóneus szabadságharc/polgárháború két vezérfonala:
a ideológiai lassú átcsúszás elleni védekezés, az azzal szembeni ellenállás
a görög típusú bálványimádással szembeni radikális fellépés
Ezek közül melyiké a főszerep?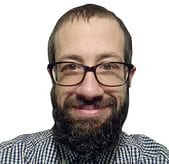 A Cambridge-ben szerzett matematikusi doktori óta egyetemen oktat és matematikában tehetséges középiskolásokat tanít. Több, mint 15 éve tanít Tórát Budapesten változatos szinten és formában az alefbésztől a Gemaráig. Ő maga is sokat köszönhet Rav Brovender Webyeshivájának. Sok más kurzus mellett az Advanced Halacha Mastery Program első végzős diákjai között volt.